Star Wars: Dark Forces, a 1995 first person shooter, is set to hit the PlayStation 4 and PlayStation 5 on February 28th, 2024. The game was originally released for MS-DOS and Macintosh, and later in 1996 for the PlayStation.
If you are unsure as to what Star Wars: Dark Forces is, it is pretty similar to the original DOOM. Obviously set in the Star Wars Universe, the first person shooter takes place both before and after the events of Episode IV: A New Hope.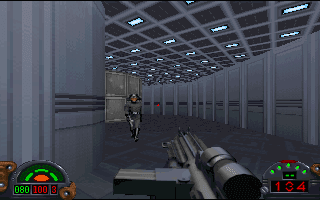 In this age of remakes and remasters, it comes as no surprise to see the Star Wars franchise and Lucas Arts getting in on the action. As far as game choice, it's a mostly forgotten 90's game with a high rating, so a remaster should fair well for the franchise and fanbase.
Star Wars: Dark Forces Remastered will feature full 3D rendering, modern gamepad support, and up to 4K resolution at 120 FPS. There will also be trophies and achievements for the avid trophy hunters out there.
What are your thoughts on the Star Wars: Dark Forces remaster? Are there other Star Wars games you are looking forward to getting a makeover? Let us know in the comment section below!