Though the PS4 boasted and still boasts an impressive library of releases, for many (myself included) the system served to be bought for initially one purpose, to be the Bloodborne Machine. Most of the people in my life who had a PS4 during its generation either bought one exclusively to play Fromsoftware's Nightmare Hunting Adventure or had initially got one solely to play the game and ended up getting more games afterward. It's a phenomenon the game industry sees time and time again, with previous generations having swathes of fans buying entire consoles for one or two games. As far as games go though, Bloodborne is at the very least worth the price of entry. At the time, it was heralded as Fromsoftware's most cutting-edge and impressive game to date. A gorgeous gothic world filled with creatures ripped straight out of H.P Lovecraft's nightmares, a haunting soundtrack showcasing beautifully composed choral scores and a combat system that incentivized aggression and speed to achieve brutal and bloody efficiency. It's no wonder then why Bloodborne still has such a large following behind it. Fans of Fromsoftware have hoped for a sequel or PC port year after year to largely disappointing results. But where the community shines is in its fanworks.
From fanart, comics, music, animations, and even fan-made video game spinoffs, the game has been shown a monumental amount of love since its debut in 2015. One of these fanworks was released back in 2022 and has since become one of the most famous pieces of fan-made content surrounding the game, this of course, being BloodbornePSX by LWMedia. An incredibly impressive feat of coding and art direction, the game serves as a "Demake" of Bloodborne's first Yharnam segment, made to look like and play as if it were made on the very first PlayStation console. With some custom-made areas and an entirely unique boss to boot the perfectly paced experience is both a treat to fans who have been orbiting the game since its earliest days and new fans looking for the best and brightest fanworks to interact with.
The game has since gone on to be covered by a variety of news outlets all over the web, along with its creator receiving much-deserved attention for her efforts. One Lilith Walther (AKA b0tster on social media) holds the title of developer for the project. A long-time video game enthusiast and FromSoftware fan herself, she's had quite an impact on the community I'm sure she's very proud to be a part of. Later in the article, we've got an interview with Lilith herself about both Bloodborne PSX and her current project, "Bloodborne Kart", but first, let's talk a bit more in-depth about BBPSX.
Bloodborne PSX:
So, what exactly is Bloodborne PSX? To start, let's answer what precisely a "Demake" is first. Demakes often have the goal of remaking the likeness of a game either stylistically, mechanically, or both, as if it was developed on retro/outdated hardware. Famous examples of Demakes include "The Mummy Demastered" developed by Wayforward as a sort of tie-in to the 2017 film "The Mummy" in the stylings of a 16-bit run and gun adventure against armies of the undead, and "Pixel Force Halo" by Eric Ruth games which take the prolific XBOX franchise and shrinks it down to a Mega Man-esque platformer reminiscent of the NES' 8-bit days. Demakes are intensely attractive looking, not only into the past of video games and their developments but just how creative developers can be with games that they love and appreciate. Bloodborne PSX hits as hard as a Demake can in my opinion, blending masterfully recreated graphics with perfectly clunky early PSX gameplay quirks that go above and beyond to make the game not only LOOK like it belongs on the nearly 30-year-old console but feel right at home on it as well.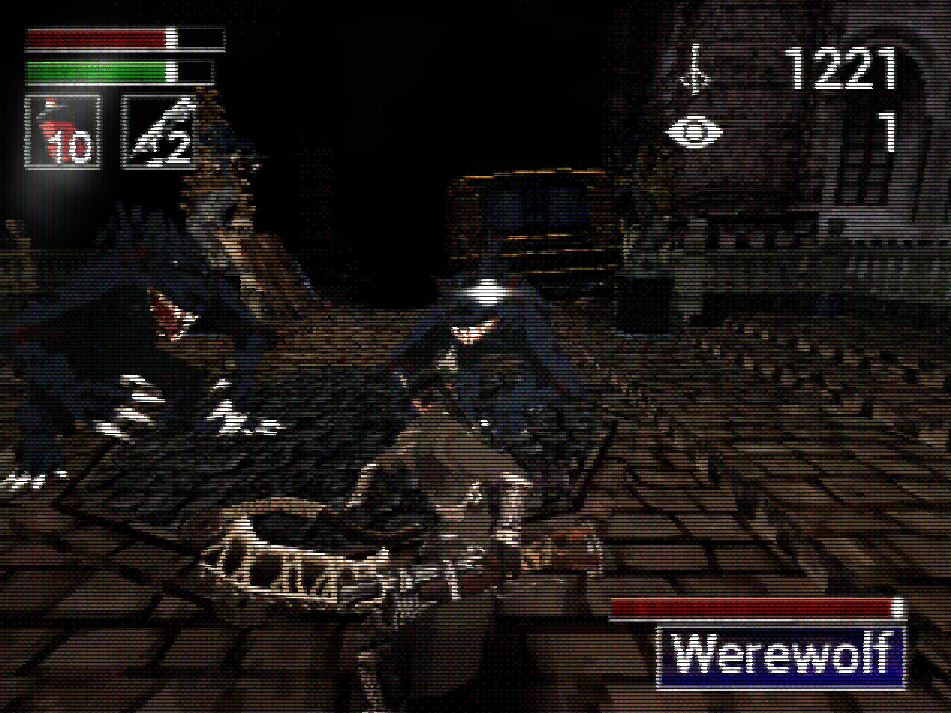 Gameplay:
Starting off with the masterfully recreated clunk in the gameplay, Bloodborne PSX "shows its age" by hearkening back to a time when being seamless just wasn't an option. Much like adventure action games of the past (and much UNLIKE its modern inspiration), you'll be cycling through your inventory delightfully more than you'd expect. Equipping keys, checking items, and even the trademark weapon transformations are all done through the wonderfully nostalgic menu and inventory screens. Taking one of the foundational parts of Bloodborne's combat system and making it such a more encumbering mechanic is nothing short of sheer genius when it comes to ways to really make you feel like it's 1994 again. On top of this, the Hunter's movement itself has been made reminiscent of classic action titles. Somehow, both stiff enough to feel dated and fluid enough to make combat that same rush of bestial fun found in the original, it goes a long way towards the total immersion into that retro vibe the game sets out to give the player. Anyone who grew up with Fromsoftware's earlier titles like Armored Core and the King's Field series will be very familiar with this unique brand of "well-tuned clunk".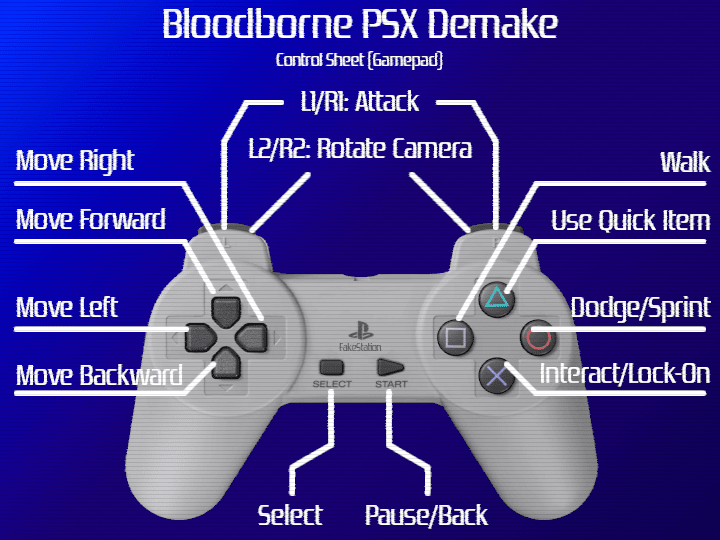 Graphics:
Speaking of old Fromsoftware games, though, let's talk about the absolutely bit-crushingly beautiful graphical work on display. As I'm sure you've seen from the videos and screenshots included in the article, BBPSX's art style and direction are nothing short of perfect for what it aims to be. While playing, I couldn't help but notice every little detail (or lack thereof) in the environments meant to emulate the experience of a game made on 30-year-old hardware. Low render distances, chunky textures, blocky polygonal models, just the right amount of texture warp, it all blends together to create an atmosphere that I can 100% picture being shown off on the back of a jewel CD case with a T for Teen rating slapped into the lower corner. While playing, something rather specific that called out to me was the new way enemy names and health bars were displayed in the bottom right corner of the screen while fighting. As a big fan of the King's Field games, this small detail went (probably too much of) a long way toward my love of how everything's meant to feel older. Other games trying to match the more specific feel of King's Field, like "Lunacid" created by KIRA LLC, also include this delightful little detail, a personal favorite for sure.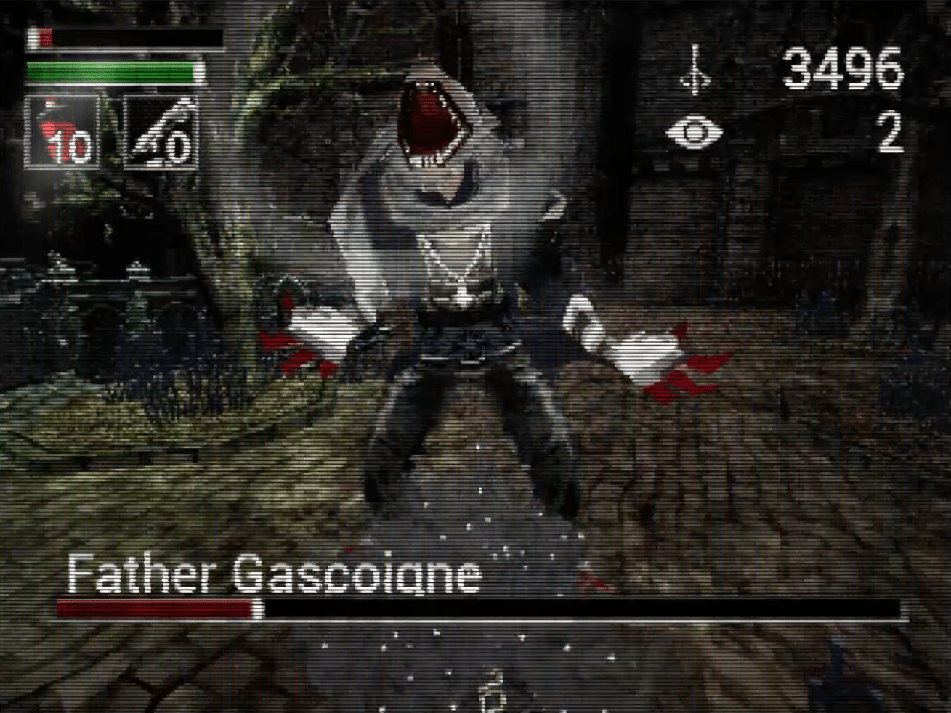 Sound design/Soundtrack:
But where would a game be without its sound and score? No need to fear, however, because Bloodborne PSX comes complete with a chunky soundscape that will make you want to check and see if your TV is set to channel 3. A haunting set of tracks played by fittingly digital-sounding MIDIs ran through filters to sound just as crackly as you remember backs up crunchy sounds of spilling blood with low-poly weaponry. Original sounds from Bloodborne have been used for an authentic sounding experience, but have also been given the CRT speaker treatment and sound like something you remember playing on Halloween 20 years ago. If you watched the launch trailer featured above then you know exactly what I'm talking about. The Cleric Beast's trademark screech and Gascoine's signature howl after his beastly transformation have never sounded so beautifully dated, and I'm here for every bit of it. Even the horrific boss themes we know and love from the original Bloodborne have been brought through this portal to the past. One of my favourite tracks, the Cleric Beast boss theme, might just sound even better when played on a 16-bit sound chip. It really cannot be understated just how much weight the sound design of the game is pulling. In my opinion, the only thing missing is that sweet sweet PSX startup sound before the game starts crackling through the speakers of a TV in the computer room.
Interview with the developer:
Before writing this article, I had the absolute pleasure and privilege of talking with Lilith Walther about some developmental notes and personal feelings about inspirations and challenges that can come with the daunting task of being a developer. Below are the nine (initially ten, but unfortunately, a bit of the interview was lost due to my recording software bugging out) questions I posed to Miss Lilith, along with her answers transcribed directly from the interview.
I'd like to start this section of the article by saying Lilith was an absolute joy to talk to. During the interview, I really felt like she and I shared some common ground on some topics regarding how media can have an impact on you and what sorts of things come with video games as an art form. After some minor technical difficulties (and by that, I mean my video drivers crashed), I started off with something simple.

The first question posited was: "What got you into video games initially?"

Lilith's response was as follows: "When I was a kid, the family member of a friend had a SNES lying around. I turned it on and didn't really understand. I was a guy on top of a pyramid, I walked down the pyramid, and some big ogre killed me. Later I learned that was A Link to the past." and after a brief laugh continued, "A couple years later my parents got a Nintendo 64 with Mario64 and Ocarina of Time and that was it. Never put the controller down since then."
A couple years later my parents got a Nintendo 64 with Mario64 and Ocarina of Time and that was it. Never put the controller down since then.

Lilith Walther
She then went on to describe what precisely about Nintendo's first foray into 3D Zelda had hooked her. "I've heard this story so many times. It's like you're not even playing the game. You're just in the world hanging out in Kokiri forest collecting rupees to get the Deku shield, and the game expects you to! It was just, 'run around this world and explore,' and that really hooked me." I couldn't agree more with her statement about her experience. Not just with a game as prolific as Ocarina of Time but many experiences from older console generations that could be considered "the first of their kind", or at the very least some of the earliest. Lilith also described her first experience with a PlayStation console, stating: "Later on I got a PS2 which played PS1 games. I didn't end up getting a PS1 until around the PS3 era, so I guess I'm a poser. I remember my sister bringing home Final Fantasy 9 when it was a relatively new game. If it wasn't my first PS1 game it was definitely my first Final Fantasy game. Of course I went back and played 8 and 7 afterwards." A solid answer to a simple question.
The second question I asked was one starting to move toward the topic of Bloodborne PSX and its namesake/inspiration. Or at least the family of systems it was released on: "What PlayStation console was your favorite and why?"

Lilith's answer surprised me a bit. Not because I disagreed, quite the opposite, actually. But with such a big inspiration for her work being games from the PSX-PS2 generations, what followed was a pleasant bit of insight into one of her favourite eras of gaming, to quote: "I can give you two answers here." To which I assured her she was more than welcome to, but she was set on having something definitive. "No no I'm only going to give you one answer. I can give you the correct answer that I don't want to admit, but it was the PlayStation 3. It's so embarrassing but I genuinely was hooked into the marketing of the whole 'The cell processor is the smartest thing in the world' and all that. It really seemed like the future of gaming and I was all about it. I think I owned an XBOX360 before but I did eventually get it and really enjoyed it. It took a couple years for some of the best games to come out but I really did." A few examples she cited as being some of her most memorable experiences on the console were Uncharted 2, Journey, Call of Duty 4: Modern Warfare, and Warhawk. All games I've seen on several top 5 and top 10 lists throughout my life within the gaming space. A delightful show of affection for a generation personally very dear to me as well, in which she ended the segment by declaring "Hell yeag", a bit of a catchphrase she's coined online.
Getting into the topic proper, my third question was one about her personal relationship with Bloodborne: "How did Bloodborne impact/appeal to your interests?" A question that received perhaps my favourite answer of the whole interview.

From her response: "Oh that's a big one. Going to the opposite end of the poser spectrum, I was a Fromsoftware fan before it was cool. One of the games I played religiously on my PS2 was Armored Core." A statement which made more sense than perhaps anything else said during my time with her. "Then later in the PS3 era everyone was talking about Dark Souls, this was when I was in college. I finally caved and got it and saw the Fromsoftware logo and thought 'Oh it's the Armored Core people!' I played and beat it, really enjoyed my time with it. I skipped Dark Souls 2 because everyone told me to hate it, I still need to go back to that one."
It's something I would recommend anyone who hasn't played Dark Souls 2 to go and do. "Then Bloodborne came out and I thought 'Alright this is the new one, gotta play this one' and I was a huge fan of all the gothic stuff in the aesthetic. And how do I explain this, I do really like Bloodborne. I like the design, and the mechanical suite of gameplay, as a video-gamey video game it's very good." The tone shifted here to something a bit more personal. "But as well, I was playing it at a specific time in my life. I came out in 2019, I know Bloodborne came out in 2015 but I was obviously just playing it non-stop. It was just one of my 'coming out games', you know?" For those who maybe don't understand the statement there, "coming out" is a very common term used within the Queer community to describe the experience of revealing your identity to those around you. Whether it be to family, friends, or co-workers, almost every queer person has some sort of coming out story to tell. Lilith is speaking in reference to her coming out as a trans woman. She elaborated: "Obviously I can only speak for myself, but I just feel like when you make a decision like that, that part of my life just ended up seared into my brain, you know? Bloodborne was there, so now it's just a part of me. And it definitely influenced some things about me. It was there because I was working on Bloodborne PSX at the time, but it had an impact on something I've heard a lot of other Trans people describe." She went on to describe the concept of "Coming out a second time" as sort of "finding yourself more within your identity" and becoming more affirmed in it. She described both Bloodborne and her development on Bloodborne PSX influencing large parts of her life, a good example being how she dresses and presents. As a trans woman myself, this answer delighted me to no end. I, for one, can absolutely 100% relate to the notion of media you experience during such a radical turning point in your life sticking with you. There are plenty of games, shows, music, and books that I still hold very near and dear to me because, as Lilith stated, they were there. All the right things at the right time.
I came out in 2019, I know Bloodborne came out in 2015 but I was obviously just playing it non-stop. It was just one of my 'coming out games', you know?

Lilith Walther
Halfway through our questions, we've finally arrived at one pertaining specifically to the development of Bloodborne PSX: "What are some unique challenges you've faced developing a game meant to look/play like something made on retro hardware?"
Lilith answers: "So there's two things, two big things. One is rolling back all of the quality of life improvements we've gotten over the years in gaming. Not automatically using keys is always my go-to example." Something as well I mentioned in my short talk about the game's gloriously dated feeling gameplay above. "That was definitely very very intentional. Because it's not just the graphics, right? It was the design sensibilities of the 90s. Bringing that to the surface was very challenging but very fun. Another big part was, since it was one of the first 3D consoles, I wanted to recreate the hype around the fact that 'ITS IN 3D NOW!' So if you go into your inventory you'll see all the objects rendered in beautiful 3D while they slowly spin as you scroll through them." This is a feature I very much miss seeing in modern video games.
She continued, "I think the biggest one was the weapon changes. Bloodborne's whole thing was the weapon transformations. Like, you could seamlessly change your weapons and work them into your combo and do a bunch of crazy stuff, and I kind of said 'that needs to go immediately.' So now you have to pause and go to your weapon and press L1 to transform it, that was extremely intentional. So once I had those three big things down it all just sort of fell into place. Like the clunky UI and the janky controls. You need jank and clunk, and I think that's why Fromsoft games scale down so nicely, because they are jank and clunk."
A point I couldn't agree with more. Despite all the modern streamlining and improvements to gameplay, Fromsoft's ever-growing catalog of impressive experiences still contains some of that old-school video game stiffness we've (hopefully) come to appreciate. She went on to make a point I was very excited to share here in the article, "It was just a lot of trying to nail the feel of the games and not just the look, right? Like I'm not trying to recreate a screenshot; I'm trying to recreate the feeling of playing this weird game that's barely holding together because the devs didn't know what they were doing." In my humble opinion, something she did an excellent job with.
Fifth on the list was a question relating to her current project, Bloodborne Kart, a concept initially drawn from a popular meme shared around social media sites like Tumblr when the buzz of a Bloodborne sequel was keeping the talking spaces around Fromsoft alight: "Anything to say about the development of Bloodborne Kart or its inspiration?"
Lilith answers: "So first off Bloodborne Kart is less trying to be a simulation of a PS1 game and more just an indie game. It's not trying to be a PS1 game, I just want it to be a fun kart racer first. Starting off of course is Mario Kart 64, that's the one I played back in the day. But I looked at other games like Crash Team Racing and Diddy Kong Racing, but also stuff like Twisted Metal of course. I always used those as a template to sort of look at for design stuff like 'how did they handle what happens to racers after player 1 crosses the finish line." The next portion of her answer was initially a bit confusing but comes across better when you consider certain elements present in BBK's battle mode. "And also Halo, like for the battle mode. I had to do a battle mode and it kind of just bubbled to the surface. Split Screen with my sister was such a big part of my childhood. Thinking about Halo multiplayer while I was making the battle mode stuff."
Her answer to the previous question began to dip into the topic of our sixth question: "Are there any unique challenges or enjoyable creative points that go into making something like Bloodborne Kart?"
As she continued from her previous answer: "One of the biggest quirks of the battle mode I had to figure out was how to tell what team you were on at a glance, and that came back to Halo again. I started thinking about how you could tell in that game and it hit me that the arms of your suit change to the color of whatever team you're on. It was just something I never even thought of because it's so seamless. So that gave me the idea to change the kart colours, and that's the most recent example of me pulling directly from Halo. It's wild how a small change like that can turn your game from something unplayable to something fun." I would agree. Tons of small details and things you don't think about go into making seamless multiplayer experiences. Some of which we take for granted nowadays. She then made a point about one of the most challenging aspects of BBK's development, "The most challenging thing was definitely the Kart AI. AI is just my worst skill when it comes to game development among the massive array of skills you need to make a game. It's really hard to find examples of people coding kart driving AI, You know? You need to make a biped walk around you can find a million tutorials online but if you need to make something drive a kart, not really. I was really on my own there. A lot of the examples out there are very simulation oriented. Like cars using suspension and whatnot, but I'm making a kart racer. So I started simple, I put a navpoint down and if it needs to turn left, turn left, if it needs to turn right, turn right. And I just kept adding features from there."
The most challenging thing was definitely the Kart AI.

Lilith Walther
Moving onto our last three questions, we started to get a little more personal. Question seven being: "What's your favorite part of Bloodborne Kart so far?"
Her answer was concise in what she was excited about most, quote: "The boss fights." Short and sweet but she did elaborate. "Translating a big part of Bloodborne is the boss fights. So I made a short linear campaign which is basically AI battles and races strung together. Some of those stages are just boss fights which are unique to the rest of the game. When you make a video game you sit down and you make all your different modes of interactions, and then you make a multi-hour experience mixing and matching all those different modes in more complicated ways. I think the most interesting part is when that style tends to fall away and it ends up building something entirely unique to that experience." An example she gave was the infamous "Eventide Island" in Breath of the wild, it being a unique experience where the game's usual modes of interaction are stripped or limited, forcing you into a more structured experience that ends up being a majorly positive one. "That's what the boss fights are in Bloodborne Kart. They do multiple game mechanics like a chase that ends in a battle mode. Like Father Gascoine's fight where he chases you, and after you blow up his kart he turns into a beast and picks up a minigun." That sounds absolutely incredible. It's very easy to see why she'd pick the boss fights as her favorite element when they're clearly intended to be such unique and memorable experiences.
Our last two questions veer away from the topics of development proper and focus more on our dear dev's personal thoughts on the matter. Question eight posits: "What's your personal favorite part of being a game developer?"
After some thought, she gave a very impassioned talk about something she considers to be the best part of the experience: "When people who aren't game developers think about game development they think of things like 'oh well you just get to play video games all day and have fun' but it's not! Except for the 2% that is, and it's near the end of development. When all the pieces fall into place and you start actually 'making the game.' Game development, especially solo, you're so zoomed in on specific parts. Because you're not making a game you're programming software that's what making a game is. You spend months working on different systems and then you actually sit down and make a level, and you hit play and it you go 'Oh my god, I just made a game'. That part is what sustains me. It's magical. That's the best part when it comes to true appreciation of the craft aside from the reception." An answer that I don't think I could've put better if I tried.

My last question is one that I consider to be the question when it comes to interviewing anyone who works on video games. Perhaps a bit basic, but heartfelt nonetheless: "Anything to say to anyone aspiring to be a game developer?"
Lilith's answer: "Yes. Just do it. For real. This is what I did and it always felt wrong until I looked at more established devs echoing the sentiment. You cannot plan a game before you've started making one. The example I always bring up is the team behind Deus Ex wrote a 500 page design document for the game and almost immediately threw it out when they started development. Just start! You're going to have unanswered questions and I think that trips people up. Don't start with your magnum opus idea, start with something simple and achievable. I feel like a lot of people set out with the goal of making a triple-A game, and that's good! But it can't be your first game. Game development is creating art, just like any other form of art, and it's like saying 'my first drawing is going to be the Mona Lisa' and it just doesn't work like that. You need practice and development, and it's difficult to see that because games take so long and so much, so it's definitely seen as a bigger undertaking. But it's still art. You're still making mistakes and learning from them for your first project. Your next game will be better. View your career as a game developer as a series of games you want to make, and not just one big game." A perfect response to an otherwise unassuming question.
Lilith's passion and love for video games were reflected very clearly in every response she gave during my time with her. Her dedication and appreciation for the art form can be seen in every pixel of Bloodborne PSX, as well as the development logs and test builds of Bloodborne Kart. I really do think that the way she answered my final question speaks volumes to the type of attitude someone should take up when endeavoring to make art as intensive as a video game. Whether it's fanwork of a game that's important to you or an entirely new concept, do it.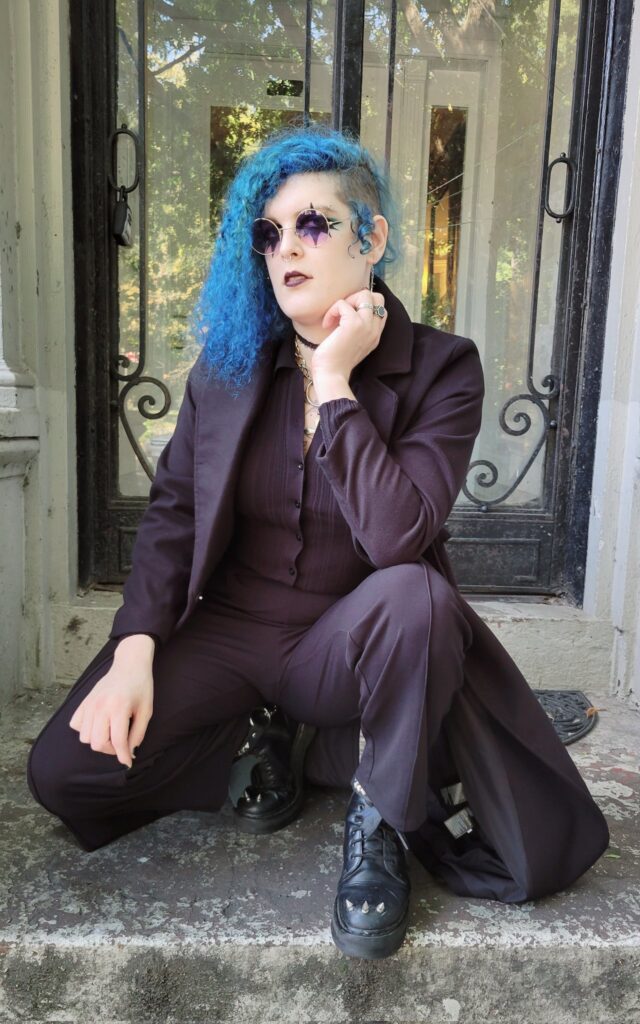 Closing:
If you'd like to check out the positively phenomenal experience that is Bloodborne PSX I've included a link to the official itch.io page below the article, as well as a link to the official LWMedia Youtube page where you can check out Lilith's dev logs, test videos, and animations about her work and other art. Thank you so much for reading, and another very special thank you to Lilith for setting aside some of her time to talk to me about this article. Now get out there and cleanse those foul streets!
Links:
Bloodborne PSX official itch.io page: https://b0tster.itch.io/bbpsx
LWMedia Official Youtube page: https://www.youtube.com/@b0tster
Lilith Walther Twitter page: https://twitter.com/b0tster