Prepare for an action-packed reunion! Today marks the kickoff of Crash Team Rumble's exhilarating Season 2, unveiling the fresh 4-player co-op Party Mode. Challenge your platforming prowess and synergize with friends across five distinct mini-game arenas, each dishing out its own set of hurdles and adventures.
As you navigate Party Mode, stay alert for time-adding clocks peppered throughout the terrains. These clocks are the lifeline of your squad – ensure you snatch them up! A countdown to zero means curtains for the team. For those with a keen eye, seek out the elusive Boss Tokens camouflaged within each level. Amassing these tokens unlocks the treacherous Boss Wave, a test reserved for the crème de la crème of players. Wrestle with time, accomplish your objectives, and overcome the final boss wave to claim the apex of Crash co-op feats.
Season 2 is in full swing today, flaunting every round of the Party Mode! And the excitement doesn't end there. Get ready for brand-new maps, a novel power-up, and the notorious Ripto from the Spyro the Dragon realm, all diving into the fray. Engage in the fun now, playable on Xbox Series X|S and Xbox One.
Additionally, this season introduces Crash Coins, the in-game currency. Score 500 Crash Coins for a mere $5 or opt for 1100 at just $10. Presently, your prime choice for splurging is the Battle Pass priced at 950 Crash Coins. Want to leapfrog a level? That's just a 150-coin ticket.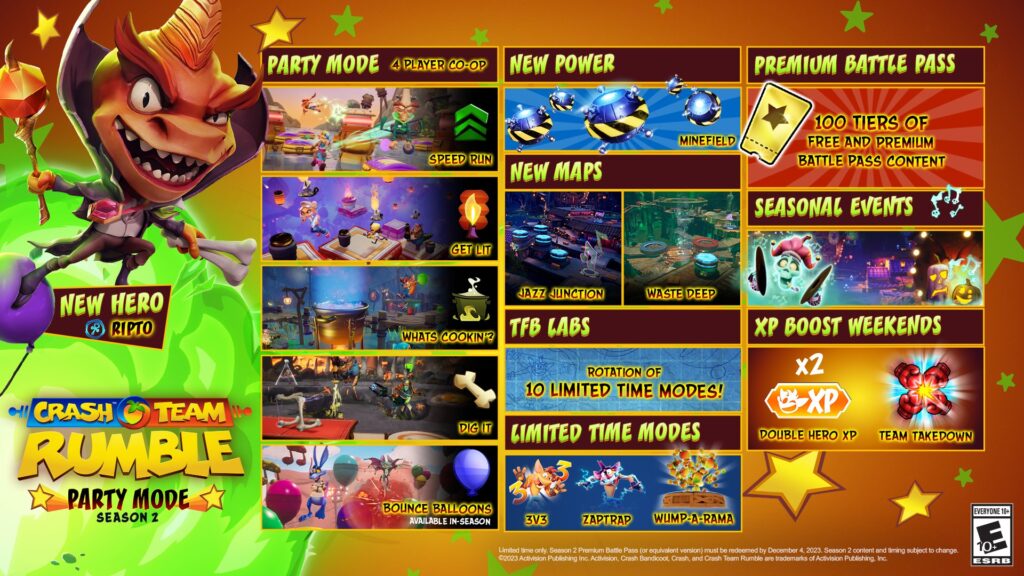 Spotlight on Crash Team Rumble: Brought to life by Toys for Bob and dispatched by Activision, Crash Team Rumble is a captivating online multiplayer game. Launched on June 20, 2023, it's available for PlayStation 4 and PlayStation 5. This title, the third party-style entry in the Crash Bandicoot series (plz bring back Crash Bash), parades a roster of iconic characters ready for action that we all know and love. Engage in spirited bouts as teams, hoarding Wumpa Fruit and strategizing to thwart the adversaries.
For more information, view the official patch notes.